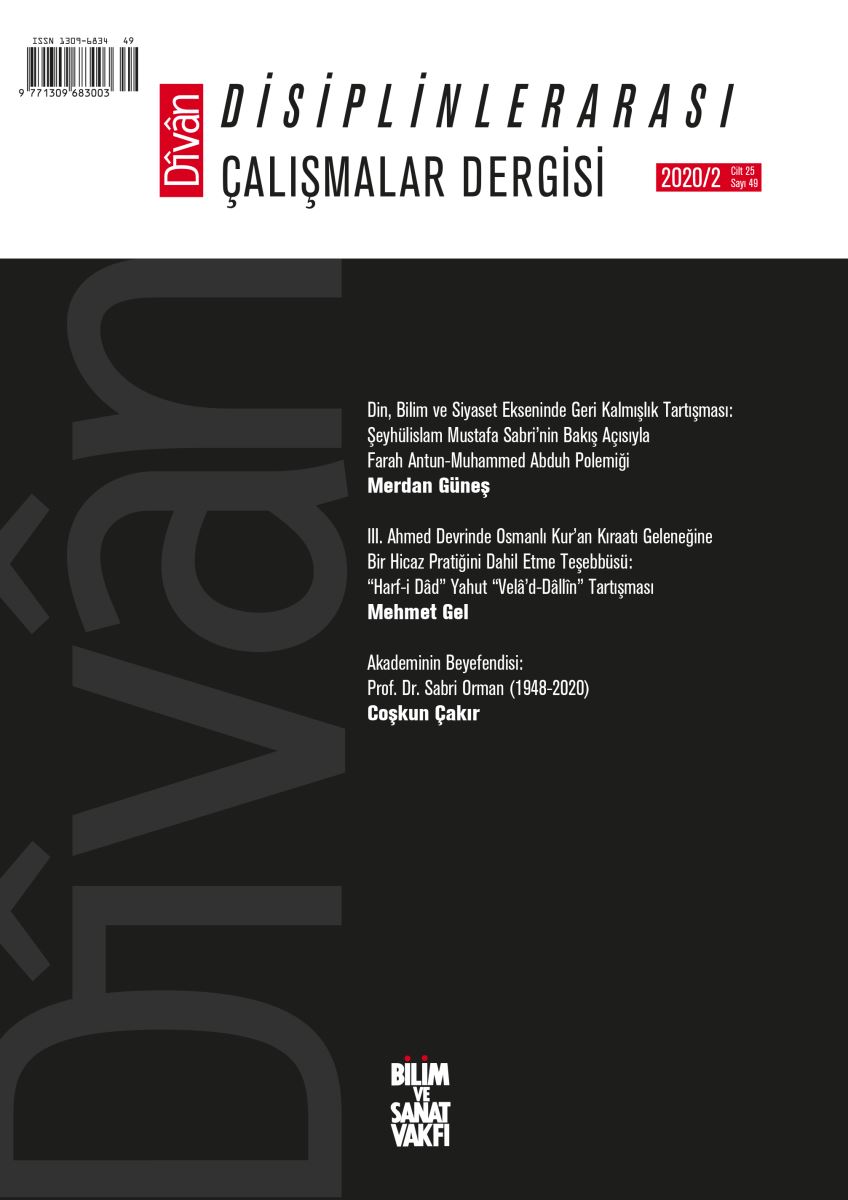 Divan: Journal of Interdisciplinary Studies
Divan: Journal of Interdisciplinary Studies is a bi-annual, scholarly periodical that has been published by the Foundation for Sciences and Arts since 1996. Divan, the Journal aims to publish sophisticated articles written from interdisciplinary perspectives and to present them to the Turkish intellectual circles.
DÎVÂN publishes original articles, research notes, conference papers and proceedings on a wide range of topics as well as reviews of books, dissertations, articles and manuscripts and those of symposia, panels, and conferences in social sciences, philosophy, history of science, law, history, arts and literature. It also occasionally publishes review articles and transcriptions of Ottoman texts in modern Turkish.
Owner
Foundation for Sciences and Arts
Editor-in-Chief
Mustafa Özel
Editor
Abdurrahman Atçıl
Editorial Board
Ahmet Okumuş (İstanbul Şehir University)
Faruk Deniz (Foundation for Sciences and Arts)
Halil İbrahim Düzenli (Fatih Sultan Mehmet Foundation University)
M. Cüneyt Kaya (İstanbul University)
Mustafa Demiray (Turkish Religious Foundation Centre for Islamic Studies)
Macit Karagözoğlu (Marmara University)
Nurullah Ardıç (İstanbul Şehir University)
Advisory Board
Abdullah Yavaş (University of Wisconsin)
Alparaslan Açıkgenç (Fatih Sultan Mehmet Foundation University)
Dimitri Gutas (Yale University)
Fazıl Önder Sönmez (Boğaziçi University)
Fred Dallmary (University of Notre Dane)
Engin Deniz Akarlı (İstanbul Şehir University)
Evengelia Balta (National Hellenic Research Foundation, Athens)
Hızır Murat Köse (İstanbul Şehir University)
İ. Kafi Dönmez (İstanbul 29 Mayıs University)
İhsan Fazlıoğlu (İstanbul Medeniyet University)
Jamil Ragep (McGill University)
Lejla Demiri (Eberhard Karls Universität Tübingen)
M. Akif Aydın (İstanbul Medipol University)
Murteza Bedir (İstanbul University)
Richard Falk (Princeton University)
Book Review Editors
M. Talha Çiçek (İstanbul Medeniyet University)
M. Enes Topgül (Marmara University)
DÎVÂN is indexed by many national and international institutions, such as Index Islamicus, ULAKBİM, Turkologischer Anzeiger, Ebsco Publishing, Worldwide Political Science Abstracts, International Political Science Abstracts (IPSA) ve MLA International Bibliography and Asos Index
For further information, please visit the Journal's website: http://www.divandergisi.com